Sometimes and idea is just an idea and sometimes it an idea with a bullet. A bullet speeds from a gun with intention and destination and sometimes without knowing it an idea can take an unexpected but specific direction. I felt exactly that as I sat across the table from a young girl (A-David-the-giant-killer-type-of-girl) and she asked me if I liked being a teacher and I said "Yes, I do."
I was standing in the garage looking at the dresser when I got the idea that I should offer the beautiful cherry wood crib and dresser, both respective gifts from our families, to Allison and Mychal for Baby Girl Clem. Mychal is our legacy kid which is kind a funny because everything else about him is current and a little edgy. He likes tradition and first annuals and connection to family.
Tim and I decided we wanted to pay for the crib for each grandchild and we had done that for Judah but when I thought of Mychal I thought he might like the crib and dresser that he and his brother had used as babies. I had kept them all these years so when I had a grandchild it could be used when they were visiting. But standing in the garage I realized that it should go to BGC (Baby Girl Clem) and maybe it would be meaningful to Mychal.
I set up a skype appointment with Mychal and Allison to talk about baby stuff and after checking to see how Allison was feeling and catching up I said, "As you know we bought the crib for Taylor and Niana and we would like to do the same for you but we would also like to offer you…" And before I could say it Mychal said "We get the crib! I knew it" He had a big smile on his face and was so excited. I was prepared for anything but not the fact that he had already thought about it and was hoping for it. I quickly told Allison that this was her first baby too and she had the right to something new and if she wanted to think about it but she said she agreed with Mychal. Of course, we explained that as soon as we got of school Tim would work on it and restore it with fresh sanding and stain and we would bring it down to them. But I couldn't help appreciating the fact that these 2 wanted this connection to family. Mychal had assumed as the first born that he should get it, and it would be too expensive to ship across the country to his brother anyway and he was pleased that we had offered it. There is a reason that first-born children receive family legacy, it is not really about birth right it is more an apology because the first kid is the Guinea pig, the kid that gets all your mistakes and failures as you are learning to be a parent and they are the kid that makes you a much better parent for the ones that follow. They should get something for all of that, right?!
So, last week we moved a drop cloth into the kitchen and Tim worked for 3 days sanding, staining restoring the wood luster of the crib and dresser and I ordered a new mattress, changing pad and cover, the dresser has a lid that drops down to reveal a changing table. When we were moving the dresser into the kitchen for Tim to work on he was giving me directions to be careful and I reminded him that I helped him carry that dresser up the stairs to our apartment when I was 8 months pregnant! He reminded me we are not in our 20's anymore and to be careful. We like to try to out funny each other. We reminisced a lot about our babies and how now they were having babies as he restored the furniture.
On Friday after somehow Tim had managed to pack it all into my Honda Fit we were on our way. I sent Mychal a text to let him know we were on the road and instead of the usual "K" I got an actual response, "If you get here early you should come by work and check it out." Mychal started a new job at the beginning of the year and was excited to share it with us. Tim put it in the GPS and off we went until we needed gas and pulled off the HWY where we were hit by another car and spent 2 hours on the side of the road. My little FIT is a bit smashed up but we are okay. We made it to Mychal's work place just in time to meet both bosses who are brothers. (More about that encounter in part 2 of Summer Reflections) After being duly impressed by everything we went onto our hotel, later that night we unloaded the crib into the apartment.
We had a great weekend with the kids and setting up the crib in their apartment was a highlight and seeing how much they loved it brought happy tears. We had planned to go to the early service on Sunday then drive home but late Saturday night we got a text from Mychal asking us if we would consider staying a little later because his boss wanted to take us to lunch after church. They all attend the same church. How could we turn down an opportunity to hear how great our kid is while the person telling you that also pays for lunch?!
I found myself at the end of the table sitting next to the 2 daughters of the Reisner family and across from their Mom. The conversation was light and fun while were ordering and getting to know each other a bit, Cory told us a little about how his business had come to be and what a difference Mychal had made in his short time there and I told Cory that a lot of toys had to die for Mychal to be the computer genius he is today. We all laughed, the food came and we were just enjoying a very pleasant time together when Tim shared an incident that had happened the night before when I chimed in to tell my part I referenced the fact that I was a teacher.  And that's when Kira, the older daughter looked at me and asked me if I liked being a teacher and I said "Yes" and then she asked me what grade I taught and I told her. Then she told me she was going into 7th grade. I asked about her school and that's when it happened. My good idea to share family heirlooms became a divine appointment.
We started talking about school and how large hers was and how she kind a wanted to maybe go to Christian school but she was torn because she wanted to start a Christian club on her public-school campus. It was challenging because the guidance counselor at her school is very resistant to Christianity and that is the person she must work with in getting this club started. She told me all she had done and yet the counselor kept making it so hard for her. Finally, a Christian PE teacher intervened  making sure she got an appointment at the right time by letting her meet with the counselor during her PE time. She was passionate, articulate and visionary. This is not a phone-scrolling, eye rolling, how long do we have to sit here with people we don't know kind a girl. She is slight in build but powerful in spirit. I began to share with her how I share my faith at school, the things I can do that won't get me fired but can send a message that Christian kids are safe in my classroom. She asked me questions and listened intently to everything I had to say. I realized rather quickly that I was talking to someone very special and when I was telling her how God would be with her and direct her path all she had to do was follow His leading the tears came, I could hardly talk for a minute or 2.
I could sense the presence of God and I knew there was an anointing on this moment, that something Holy was happening between Kira and me. Everyone else at the table stopped talking and listened in for the last few words the Lord gave me for her. The conversation lightened a bit and I encouraged her to start writing in a prayer journal and some other things. She listened, responded and was just so thoughtful and reflective in her responses. I thought to myself who is this girl? Who is she going to be? I was impressed with her and humbled that God had given me some words for her during this time.
Normal conversation resumed and then it was time to head for home. We thanked Cory for lunch and as I was walking to the door my son put his arm around me and asked me if I enjoyed lunch.
"Yes, these are good people and I am happy for you." Then I said "Kira is someone very special. I want you to get her the Wrinkle in Time Trilogy"  "You mean the quartet?" Yes get her the quartet." I laughed at him and we said our goodbyes.
I was standing in the garage when I got the idea to give the kids the crib and dresser but all the while God had a divine moment that needed to transpire and so He weaved the ideas and thoughts into my heart and mind to get us to this specific place and time for this moment to happen. He is always at work connecting people, what often seem like chance encounters or happy accidents are really God at work in us and through us.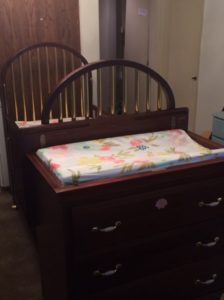 I am so excited that BGC is going to use this beautiful furniture that was given to us by the Clements and Cunningham Families. I still love the curving arches on the crib.