Please Welcome my Blog Guest: My Husband, Tim Clements
In recent days the school where my husband works has been navigating some rough waters, anytime you have more than one person in the room you have rough waters.  On his way to work this last Friday morning he was praying about the situation and  these thoughts began to form in his heart placed there by The Holy Spirit. In his role on campus he is Mr. Clements but this devotional is pure Pastor Tim.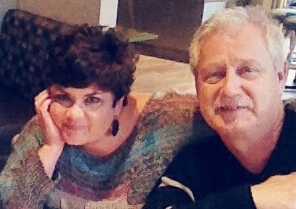 Dear Colleagues,
I was sitting in my recliner last night with my chrome book in my lap with tears running down my face when my wife came back into the room.  She was immediately concerned but I could hardly get my composure to tell her why I was crying. I had been reading the student's response to an assignment I had assigned in one of my bible classes. It was a wrap up assignment to help the kids personalize what we had talked about all week long: How Jesus is our Shepherd and how we can trust him. I had asked them to simply write a letter to the Shepherd opening their hearts to Him about what concerned them.  And they did open their hearts with the cares that were weighting them down. As I read about families struggling and illnesses of close family members the tears were forming like storm clouds over a mountain range but it was not until I read the last one that the clouds let loose.
"My heart hurts because my family and school is falling apart". Those words arrested me and I thought "kids should not have to be carrying this load". And yet they are weighed down by the concerns of the future and how it will impact their lives. I sense their sadness and fear and begin to pray for each one by name asking God to heal their hearts and give them peace in the middle of this storm. "Shield them from what they should not have to be carrying – they were never built to carry such loads". And then I heard that voice in the place deep in my heart where He speaks to me. It's never been audible but it has always been clear, "neither were you!"  So I turn again to 1 Peter 5:7 and read these words:  "cast all our care on Him for He cares for you".  And begin the process of unloading my burden for hurting students on the One who was built to carry that load.
A whole bunch of years ago, I was at church early to lead worship practice and had my oldest son, Mychal with me. He was about 5 years old at the time. A young lady from my single adult ministry was their early praying. She engaged my son in conversation where she learned that his gold fish had died.  She helped him fill out a prayer request for a new fish and he placed it in the prayer request box on the platform. A week later she came to me with a box that had a small fish tank inside and a gift certificate to a local pet store to purchase a new fish. She said that as she prayed with my son that day she felt God impress upon her to be the answer to that prayer so that he would know that God answers prayer.
As I was driving to school this morning that story came so strong to my mind and I sensed the Lord asking me in some small way to be the answer to my hurting student's prayers. God does heal what's broken – even relationships and you and I can be a part of the answer to those prayers. I can pray for them and I can love them, and I can demonstrate that love to others. I can show them the way through this crisis. Please know that I was praying for each of you this morning, and I trust our Shepherd to lead us safely through this valley without losing one of His little lambs. (John 21:16)
Praying with you and for you today,
Tim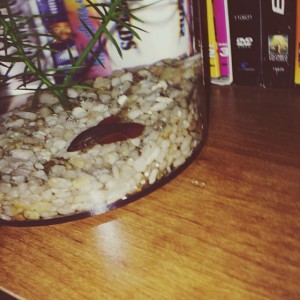 In the ironic synchronicity of life, Mychal and his beautiful wife bought their first pet together the day after Tim wrote this blog, some life lessons bury themselves deep in our hearts.