I hate junk mail, I usually put it in the trash can as I take it out of the mailbox but I saw a picture of Huey Lewis and that caught my eye, I realized I was actually looking at a brochure from the Marin Civic Center where we had seen Bill Cosby and that saved it from the trash. Huey Lewis was going to be at the Marin County Fair on July 2nd and that really got my attention so I ripped that page out of the mailer, hung it on the fridge and threw out the rest. Sometimes what we think is just the ordinary,  is really the foundation for the supernatural.
After looking at Huey's face for a couple of days a plan began to take shape in my mind, I could invite Tamah and Dave Mc Queen to meet us at the fair in Marin and we could get in a good visit and see Huey Lewis all for the price of  an admission ticket $17.00 bucks. Normally I avoid fairs because they are in hot places but this is Marin County nice and cool even in the summer. So after a couple of texts the McQueen's were all in with the plan and so they ordered tickets and we ordered tickets and then we went on with summer until July 2nd arrived.
On the 2nd we were just talking about getting ready so we could make our noon meet time with Tamah and Dave when they called to say they were not going to be able to be there until 1:00 so we adjusted and at 11:00 were on our way.  Then we got a text letting us know they needed to go by and see the Doctor nothing major but they needed to just check something and they would let us know when they were  back on the road. Of course we were worried and let them know not to come if it was too serious but they said just a little blip and they would be there way before concert time.
We arrived at the darling little fair and headed straight for the Corn Dogs…Delicious!  We looked over the fair brochure and decided to go check out the concert venue. It is a stage on an island with seating for about 1,000 and grass seating all around it. People were putting blankets on the grass and on chairs. We had left our blanket in the car and it was parked in outer Mongolia so I text Tamah to see if she had a blanket and she did and that everything was fine and they were on their way and would let us know when they had arrived at the fairgrounds.
So we waited and I  just relaxed while Tim was checking out all the equipment and we were hoping for a sound check. No luck! About 3 pm the McQueen's arrived and Tim took the blanket, spread it across 4 chairs on the end right in the middle and off we went to enjoy the fair.  The 3 of us looked around a bit while Dave parked their car and when he caught up with  us we just decided to get some ice cream and sit in the shade and visit until the concert. The thing about college friends (especially Bethany) is it doesn't matter if you only see each other once in awhile and FB the rest of the time when you are together it is like you have never been apart.
About 6 o'clock we realized we better go check on our seats and see how full the venue was getting  and when we turned  the corner to walk across the grassy bridge the place was packed with people and we were pretty sure that by now someone had moved our blanket even if the concert didn't start until 7:30 pm. Tim in a bit of panic managed to wrangle his way through the crowd and got to the seats way ahead of the 3 of us. But when we finally  got to Tim the blanket was still in place and what waited for us was not just good seats to see the band but an answer to something Tamah had been praying about for awhile. Did you know God goes to the fair too?
We were all talking about our surprise at  finding  that the blanket was still in place when  the very kind couple seated  in the row ahead of us told us that they had been saving our seats and they were glad that we had arrived because they didn't think they could hold people off much longer. We gushed our gratitude and just began to chat exchanging the basic information of where we were from and stuff like that Scott and Susan Barlow are from Medford OR and Tamah said "Our son and daughter-in-law live in Talen!" (a suburb of Medford) and then we shared occupations, Susan is a School Secretary, the four of us laughed because we are school superintended (Dave) High School Librarian (Tamah) and Middle School Teachers (Tim and I) so of course we talked school schedules and then it got to how we all came to be at the concert.
Scott and Susan were on a 25th wedding Anniversary trip and this was their last stop before returning to Medford. We shared how we were college friends and meeting here to be together and enjoy the concert too. But the whole time Tamah was intently looking at Susan and just listening. Tamah had asked Susan if she was a shop owner in Talent or Medford where she had shopped with her kids but Susan said no and told us what her job was and that was how we started talking about our school connections. But Tamah knew she had seen Susan somewhere before and was racking her brain about where and when…then an idea sparked by something Susan said gave her the courage to ask a very important question, I just held my breath.
"Do you go to Table Rock Fellowship in Medford?" And Susan's eyes lit up "yes!" and Tamah said "That's it! That is where I saw you! We may have even sat behind you in church when visiting with our kids!" All of a sudden we were in a divine appointment. She told Susan that her Issac and Lauren (her Son and DIL) had loved the church (and Tamah told me later that she and Dave had loved the church too) but when beautiful grandbaby Brooke was born the kids had to change their schedules to work opposite times to cover care for the baby.
Isaac had just graduated from college and because they had jobs and Lauren was entering the nursing program they were going to stay in Talent where they had no family or any other connections. Church attendance had become a challenge because they could no longer attend together due to the adjusted work schedules and they did not feel comfortable attending alone.  Susan's eyes twinkled and said "We can help with that because I have a daughter and son-in-law that have a new baby and they go to our church and I need to think about how to get them altogether." Numbers were exchanged and ideas of how to move forward to help connect Issac and Lauren to this church. Two Moms understanding and sharing the need for young families to bond in relationship with a church family, months of prayer answered in what some might call coincidence.
While this conversation was going on Tim was engrossed in conversation with Scott and he learned Scott had planned this Hwy 1 coastal retreat for their anniversary and had decided to end it here so they could see Huey Lewis because they loved his music. At first Susan had been hesitant because a Fair? Really? But he found a gorgeous hotel and then revealed he had chosen it because of the concert. The Holy Spirit orchestrating all of our paths, aligning our choices so in that enormous crowd, Tim would place our blanket in just that spot…The Holy spirit using the secular to do the work of the sacred. Miraculous!
Later we were sitting on the blanket watching the fireworks and I was musing about what had just happened, all the little pieces of the puzzle that came together so that connection could be made, the mailer, the idea to invite the McQueen's, Tamah's prayers on behalf of her children, her boldness to ask the question and her tenacity to ask for help and Susan's warm response. The Holy Spirit at work in all of us so that Issac and Lauren could find a home away from home.
Is He a good God? Yes He is!
"The LORD directs the steps of the godly. He delights in every detail of their lives." Psalms 37:23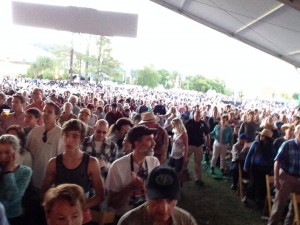 This just a small glimpse of the crowd 🙂