I hate math, it has been a lifelong nemesis. It has been the insurmountable hurdle, the raging river to forge and the boulder in the road that kept blocking my way. I love words, phrases woven together to tell stories that teach, inspire and convict us to grow deep in the private places of our hearts. But sometimes to use the words you have to work the numbers.
I was 22 and a senior at Bethany University when they informed all of the multiple subjects and single subject majors that we would have to take the CBEST test to enter any 5th year credentialing program. You didn't have to pass it to get into the program but you would to obtain a California credential. So Mina and I (my one and only college roommate) signed up, paid the money, and drove to somewhere I cannot remember to take the test. There were so many teacher types there, and many of them looked like they qualified for What Not to Wear, the teacher frump en masse. I told Mina we cannot let that happen to us, and I've had some recent adventures with her lately and she is just as adorable now as she was then. Of course I must take some credit because I did teach her how to put on make-up and curl her hair.
We took the test I passed the obvious parts failed miserably the math as I knew I would. I was a freshman in High School when I had taken my last math class, it was pre-algebra and it took Sheri, Juanita and Kevin Kolmar to get me through it.  It took all of them to help me with my homework but they couldn't help me with the tests. And that my friend is the problem…math test anxiety.
The anxiety comes from I don't know how to do it!
A few short years later I studied a lot and retook the math portion again and failed again. But by then I was teaching in Christian schools and because I had a BA in English and had completed all the courses required for a teaching credential no one cared that I didn't hold a CA credential.
When we moved to AZ a credential became a reality.  Arizonians tend to be very practical-no-nonsense people the only requirement was an English skills test and a professional knowledge test. I aced both and obtained an AZ credential. I felt satisfied that after teaching all those years, I finally had a teaching credential. But I am quintessentially Californian, born, raised, educated, married and gave birth here. I even have immigrant grandparents and I would take a pair of shorts and a pair of flip flops over any other kind of dress. I didn't enjoy the irony of having an AZ credential and not a CA one.
Fast forward we are back in the state and although my AZ credential automatically meant I could have CA credential to retain it I still had to pass that stupid math test! UGH! The CBEST has 3 parts Reading, Writing, Math. You must score at least a 41 scaled score and a total score of 124 to pass it. When I took it for the 3rd time I decided to retake the Reading also so that I could raise my overall score high enough that I could pass the math section with only a 37…they let you have that score in one area if your total score reaches the 124. I raised the reading score considerably and failed the math portion again.
So a friend who teaches math helped me learn some math concepts and I thought I understood it enough to try again but I got the worst score ever. You see it isn't enough to just know the math concepts it is having the ability to apply them in different scenarios and using them logically in those scenarios. UGH! I was a mess when I got the last score…I started crying and I could not stop. My husband and son tried to comfort me but I just felt completely defeated.  I railed at God "You know I can't do this, I have tried and tried and you know I need it to get a job, why can't you just do a miracle and help me pass it!!!!
But God is not a God of short cuts or unfinished business because in life everything is about the work He is doing in us. The author and finisher of our faith is always at work creating and crafting in us His purpose.
But He will provide the tools; sometimes being on God's work bench is painful and hard to endure .Later when I was no longer suicidal my husband tenderly and gently said to me, "Kim, part of this is you don't think you should have to pass a math test to teach English. The warrior in you thinks this unjust and unfair and you are mad you have to do it. You think this rule shouldn't apply to you so you don't want to do it." I hate  when the Lord shows me myself and uses my husband to do it. That's just mean, but kinda funny too.
My son the Psych major counseled me that I had "Learned Helplessness" which means I was sabotaging myself and making it harder than it is. Easy for him to say he took Calculus in High School. He was gentle and sweet and he hugged me and said "Mom you are really smart and you can do just about anything…you can do this." The worst thing about when your kids grow up is they use your own words against you…it is especially painful when it is true.
Then my Dad said he would pay for me to take a CBEST math prep class. I had never done this before because they are expensive and something about it felt a little demeaning, I mean it is just basic math after all. But I knew I had to get help so I accepted his help.
I spent the entire fall being a paraprofessional in a 5th grade math classroom. I have never felt so useless to students but I was learning so much from Mr. Dickey who is an amazing math teacher. By the time I took the prep class I had enough knowledge to really understand what I was being taught in the prep course. While the young man teaching the prep course systematically and methodically showed us what we needed to know, it was like I felt my mind opening up to numbers. I saw things I had not seen before, I could see the hidden agenda in word problems and I could start to grasp the X and Y combination in algebra and although I will never be a numbers person my understanding was starting to develop a little. I was scheduled to take the test at the beginning of January and so 2 or 3 times a week I would sit down and work on math problems and now with computerized practice tests that grade your work right then and show you what you missed I could see what things I didn't understand I could work on those things.
I have never been afraid of hard work or facing hard things, but I came to realize that I liked to work hard when it is something I care about or something in which I can excel  but at something where I would never shine I didn't want to invest the time into it. I wanted an easy way out; I wanted a miracle and God to do it for me not in me. But that's not His way; He wanted me to learn something about me in this process, the master teacher requiring my participation in the lesson.
The first week of January I started a brand new job with difficult students who had been allowed to do whatever they wanted with subs for a semester. It was a challenging situation and I was stepping into it with a raging flu and the CBEST test on Saturday. God uses His miraculous power to implement the work that He has already done in us. Empowering all of the experience and knowledge I have gained over the years to do what needed to be done. And every night I came home exhausted and I would turn on my computer and practice 10 or 15 math problems then take Nyquil and go to bed. I felt like that week was a year and I was running a marathon with no end to it. I just keep leaning into it. Resolve,   experience, 4 Dayquil and the Holy Spirit can get you through almost anything. Saturday came and I took the test. I went slow, I utilized everything I had learned, I checked and rechecked my answers and when I walked out of there I left it in God's hands for the first time I knew I had really done everything I could and now it was over.
I went home put on my pajamas and slept like a dead woman.
When I look back over the process I see what it taught me about me and what spiritual truths God was using this experience to illuminate. It is not enough to limit our understanding to the areas in which we feel accomplished spiritually but to take on areas of our lives that are a mess that we keep hidden and protected because it just feels too hard to surrender to God or too hard to change.That God is never satisfied with where we are now and what experiences we have already survived or conquered. That experience can help us not repeat former mistakes but experience alone isn't enough for new challenges. We need new insight. We need to develop different spiritual muscles. We need to lean into the new concepts and prepare for new tests.
On a Sunday night I got the notification that I would receive the results the next night and a time frame was given, Tim wanted to make sure he was home before I looked at them. Considering all of the drama from the last time I understood that but I did have a quiet sense of it was done, I felt it when I finished the test that day.
I scored a 44 and had finally passed the test! I love that you can see the year span on the score sheet, 1983 was the Writing score, 2012 the higher Reading score and 2014 the Math score. I started this journey at 21 and finished at 51. And I would like to add I had style the whole time!
When I think back to that day sitting in the prep course, and how clear everything became because someone who knew how to do it was systematically showing me how every number and numerical system had specific connections to the others. How each level built knowledge and understanding for the next level and if worked properly it could and did make sense. X's Y's and Z's do have numerical place and they are often the missing element you are looking for in a problem and once discovered you can now solve.
Our lives are like that too, some equations can't be solved until all of the X's Y's and Z's are replaced with DIVINE numbers that only He can provide. Sometimes we just have to live with an X in place of the truth that will eventually be revealed. But He promises that He will finish what He started…the equation will be resolved…sense will be made of the nonsensical…healing for sinned against wounds will be healed…understanding will replace confusion and Joy will replace pain.
In the movie The Best Exotic Marigold Hotel  the optimistic young manager constantly repeats this phrase…"Everything will be alright in the end, if everything is not alright then it is not yet the end." I felt the Lord just nudge me when he said it the first time and it rolled around in my heart for days…truth does that.
We are going to be the image of Christ in the end, and if we are not yet that it is not the end. He never leaves anything Unfinished.
Philippians 1:6  " Being confident of this, that he who began a good work in you will carry it on to completion until the day of Christ Jesus."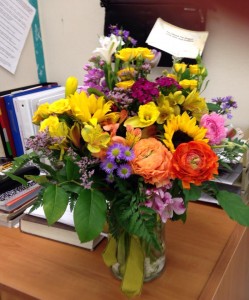 The next day after receiving my scores, there was a knock on my classroom door when I opened it a student was standing there holding these. I said who are those for and she said "you!" I opened the card and it said "Congratulations on slaying the Dragon" Kris and John
My sister Kris told me that my brother-in-law Jon thought my victory should be celebrated…I loved that! If you knew what a tough army guy he is, you would love that too. Their aroma filled my classroom and reminded once again of the sweetness of tests completed and battles won.